Welcome Reception - Get Together Party
► Sunday, July 3, 2016, 18:00 - late
After Opening Session
Around Building CW (Lecture Centre)
Address: Piotrowo 2, 60-965 Poznań
Having collected your conference bag and attended the opening session, meet your friends and colleagues at the Get Together Party at Poznan University of Technology! On Sunday evening taste a typical Polish barbecue (option for vegetarians included) accompanied by lots of world-class Polish beer. Do not miss this!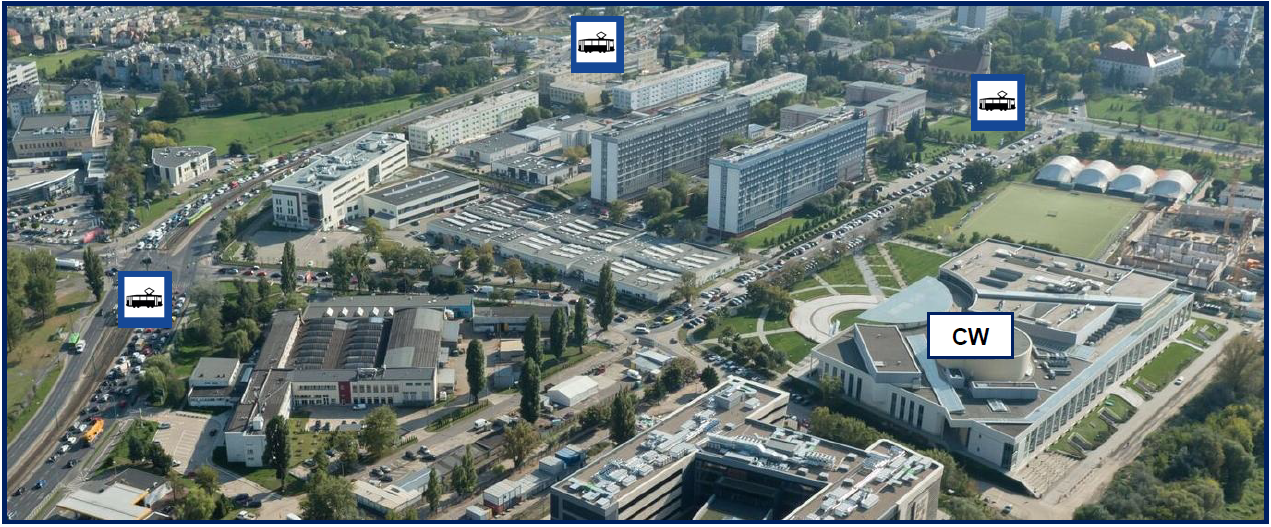 Farewell Party
► Wednesday, July 6, 2016, starting 18:00
After Closing Session
Around Building CW (Lecture Centre)
Address: Piotrowo 2, 60-965 Poznań
After the Closing Session enjoy a relaxing evening with Polish food and drinks. Let us surprise you with the details...
Conference dinner
The EURO 2016 formal conference dinner takes place on the evening of Tuesday 5 July. Guests will enjoy welcome drinks on arrival (served at 19:00) followed by a short musical performance and Polish-themed locally sourced three course meal with after dinner coffee.
Reminder: Right before the conference dinner (17:30 - 18:30) at the same venue of Poznań International Fair, you are invited to attend the central plenary lecture of Robert Aumann (2005 Nobel Memorial Prize in Economic Sciences). The lecture is open to everyone. The dinner was not included in the conference fee and had to be paid separately.
How to reach Poznan International Fair from EURO 2016 venue?
Take a tram! There are two routes you may follow.
Go to Politechnika stop, take a tram (line 5 or 13), heading to Bałtyk. The tram will pass close to the Old Market Square, a symbol of Poznań's modernism - Okrąglak (The Round House), Kaiser's Castle, and June 1956 Events Monument. After about 12 minutes in a tram you will be at the Bałtyk stop. Take a short work walk to the entrance of Poznań International Fair (Międzynarodowe Targi Poznańskie).

Alternatively, have a short walk to Serafitek stop, take a tram (line 6 or 18), heading to Most Dworcowy. After about 9 minutes in a tram you will be at the entrance of Poznań International Fair!

Snack & Beer at Old Market Square (Stary Rynek)
| | |
| --- | --- |
| ► Monday, July 4, 2016, evening | Restaurants in the proximity of Old Market Square |
Spend a nice evening at the charming Old Market Square! In the conference bag you will receive a coupon for a snack & beer that you can realize at July 4, 2016 (Monday), in one of the eight restaurants in the close proximity of the Old Market Square. The coupon lets you order a beer and an indicated snack. Note that all additional orders will be charged separately according to the price list of the given restaurant.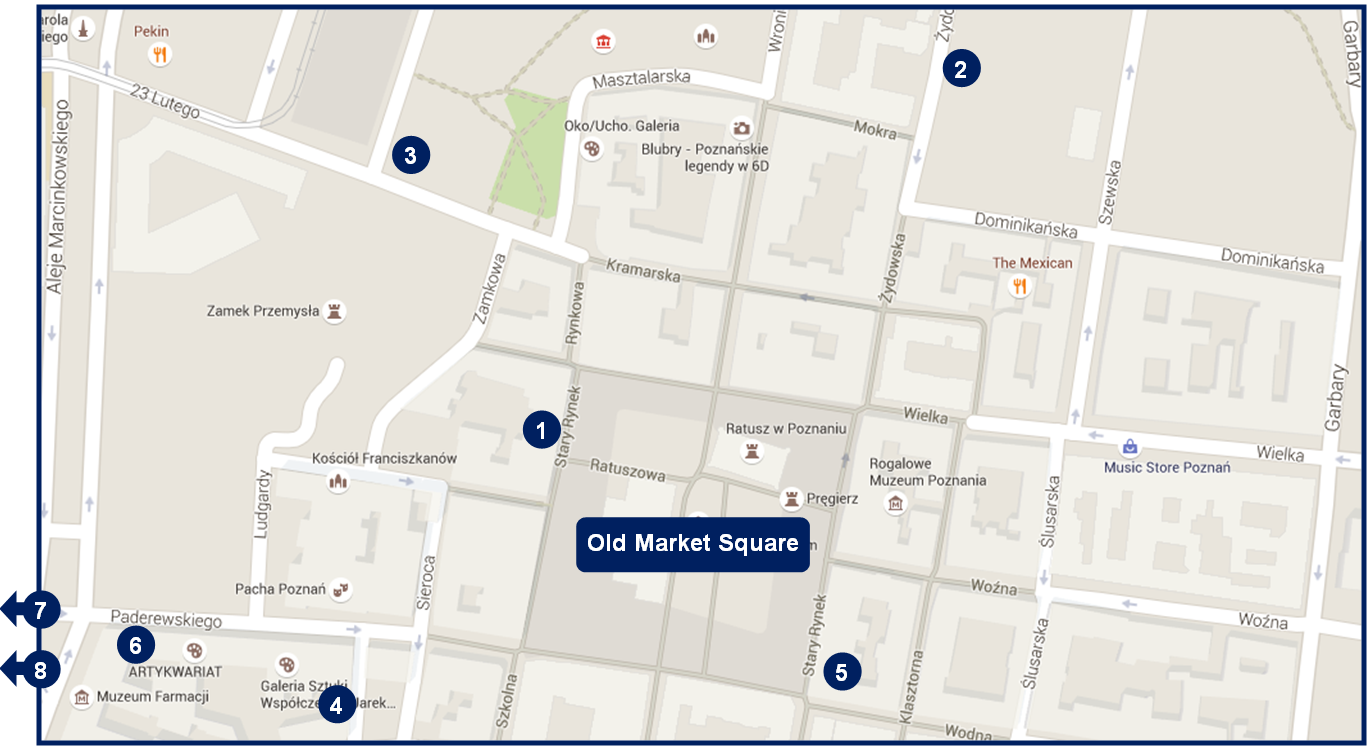 1
Room: Stary Rynek 80/82
www.roompoznan.pl
Beer: Żywiec 0.3l.
Snack: tartar steak on toasts.
2
Bordo Restaurant & Cafe: Żydowska 28 www.facebook.com/CafeBordo
Beer: Miłosław Pilzner, Fortuna Czarne, Książęce Pszeniczne, Książęce Czerwone, Książęce Ciemne 0.5l.Snack: gravlax (raw salmon, cured in salt, sugar, and dill)
3
Pekin Chinese Restaurant: 23 lutego 33
www.pekin.pl
Beer: Tyskie Gronie, Lech Pils 0.5l
Snack: Spring rolls with meat filling (3 pieces)
4
Bistro La Cocotte Restaurant: Murna 3a
www.facebook.com/lacocotte.poznan
Beer: lwowskie.
Snack: carrot chips and crispy gralic-basil bread with salsa.
5
Czerwona Papryka Restaurant: Stary Rynek 49
www.czerwonapapryka.com.pl
Beer: Tyskie 0.3l (or wine 125ml or juice 0.2l)
Snack: olives with anchovies or garlic; grilled plumbs with bacon; patatas bravas, mushrooms with garlic and parsley
6
Bazar 1838 Restaurant: Paderewskiego 8
www.bazar1838.pl
Beer: Żywiec 0.33l
Snack: focaccia with tomatoes and olive tapenade
7
Chłopskie Jadło Restaurant: Fredry 12
www.chlopskiejadlo.pl/pl/poznan-fredry/
Beer: Tyskie Gronie 0.5l
Snack: appetizer (360g)
8
Sphinx Restaurant: Św. Marcin 66/72
www.sphinx.pl/restauracja-70/
Beer: Tyskie Gronie 0.5l
Snack: onion rings (200g)
Old Market Square (Stary Rynek)
The square was originally laid out in around 1253. The chief building of the square is the Old Town Hall (Ratusz). Other central buildings include a row of colourful merchants' houses, the old town weighing house, and the guardhouse. Other features of the square are a punishment post (pręgierz) and beautiful fountains. On each side of the square you can see rows of former tenement houses, many of which are now used as restaurants, cafés and pubs.
How to reach Old Market Square from EURO 2016 venue?
Have a short walk! Poznan University of Technology is located very close to the Old Market Square and it takes just several minutes to get there on foot.
Turn right onto Kórnicka. Continue onto Świętego Rocha bridge and Mostowa. Slight left onto Dowbora-Muśnickiego. Continue onto Bernardyński Square, Zielona, and Podgórna. Turn right onto Wrocławska, and you are there!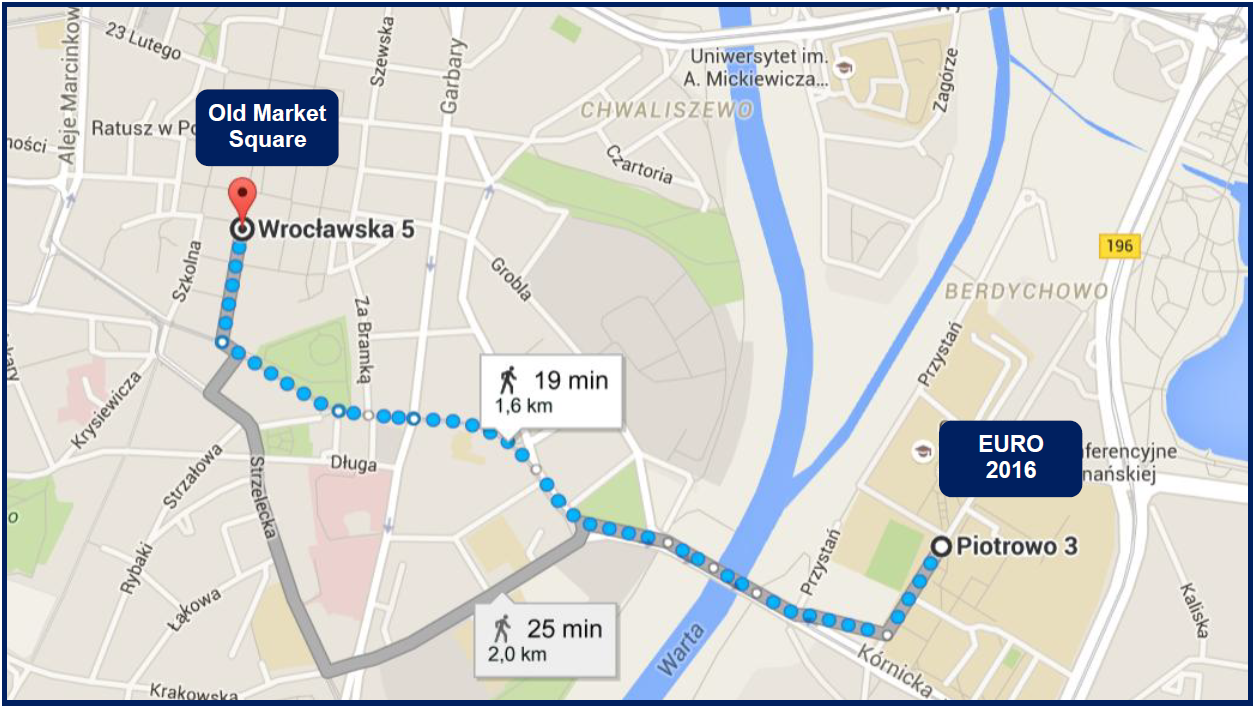 Alternatively, take a tram. Go to Politechnika tram stop, take a tram (line 5, 13, or 16), heading to Wrocławska. It will be the third stop on your way (3 minutes in a tram).