Highlights of Poznań
Poznań is an extraordinary city - open and dynamic, filled with unique places and attractions. Here are a few tips which will allow you to enjoy your stay to the fullest - the 20 highlights of Poznań.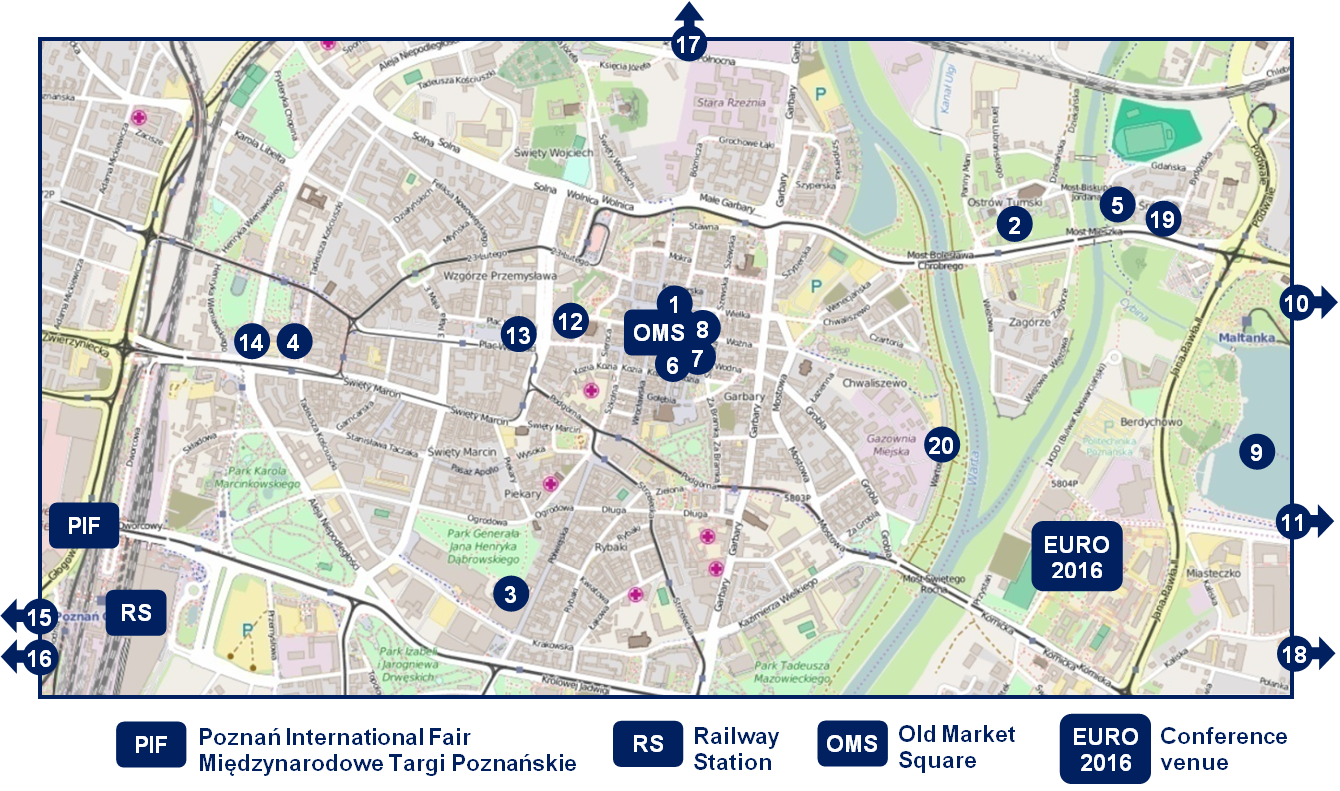 1
City Hall: the pearl of the Renaissance from the 16th century. Every day at high noon two billy goats appear in the tower, butting their heads 12 times.
11
Malta Ski Sport & Recreation Centre with a year-around artifical slope and Adrenaline alpine coaster.
2
Cathedral: the first Polish cathedral, built in
the 10th century. Golden chapel contains the sarcophagi and statues of first Polish rulers.
12
National Museam: rich collections of paintings by famous Polish artists (Malczewski, Matejko, Wyspiański) and Poland's only Claude Monet.
3
The Old Brewery: multiple award-winning trade,
art, culture, and business center. Former Hugger's brewery.
13
Freedom Square with the classical building of  Raczynski Library and a beautiful fountain in form of a sail.
4
Kaiser's Castle: the huge neo-Romanesque building was constructed for German Emperor William II. Now the castle serves as a cultural centre "Zamek".
14
June 1956 Events Monument: two crosses commemorating the 1956 protests and subsequent protests against the Communist political system.
5
Porta Posnania ICHOT attracts its visitors with a multimedia display, presenting the fascinating history of Cathedral Island.
15
Poznań Palm House in Wilson Park with 17 thousand plants of 700 species and subspecies from the warm and hot climates.
6
Parish Church of St Stanislaus: one of the most monumental Baroque churches in Poland.
16
INEA Stadium: venue of UEFA EURO 2012, holds up to 43,000 viewers.
7
Górka Palace: one of the most wonderful Renaissance baronial mansions in Poland, with a beautifal sandstone portal and an inner courtyard.
17
Citadel Park: Poznań's favourite relax location with an open-air excibition of Magdalena Abakanowicz sculptures. Have a stroll around the park!
8
Poznan Croissant Museum: you can see the original shows which reveal the secrets of Saint Martin Croissants and other Poznan's prides.
18
LECH Visitors Centre is a beer lovers' paradise and the only place where you can find out about the process of producing LECH beer.
9
Lake Malta has one of the oldest man-made rowing venues in Europe; a beautiful walking area.
19
Beautiful 3D Wall Mural painted to remember historical Środka market district (must see!).
10
Malta Thermal Baths Sport and Recreational Centre is a perfect place to rest and relax. Sport and recreational pools filled with thermal water.
20
KontenerART is a mobile centre of culture and art. Come and chill with friends by the Warta river and City Beach.
Poznań's Best Restaurants
Poznań, thanks to its trade fair, academic and tourist traditions has taken good care of the palates of its guests from every corner of the planet. However, in the recent years, more and more restaurants have been focused on the presentation of our culinary Polish heritage. Below are some tips on the best restaurants in the city. Before the visit, please consult their opening times as in Poland the restaurants are not open till late as, e.g., in Southern Europe.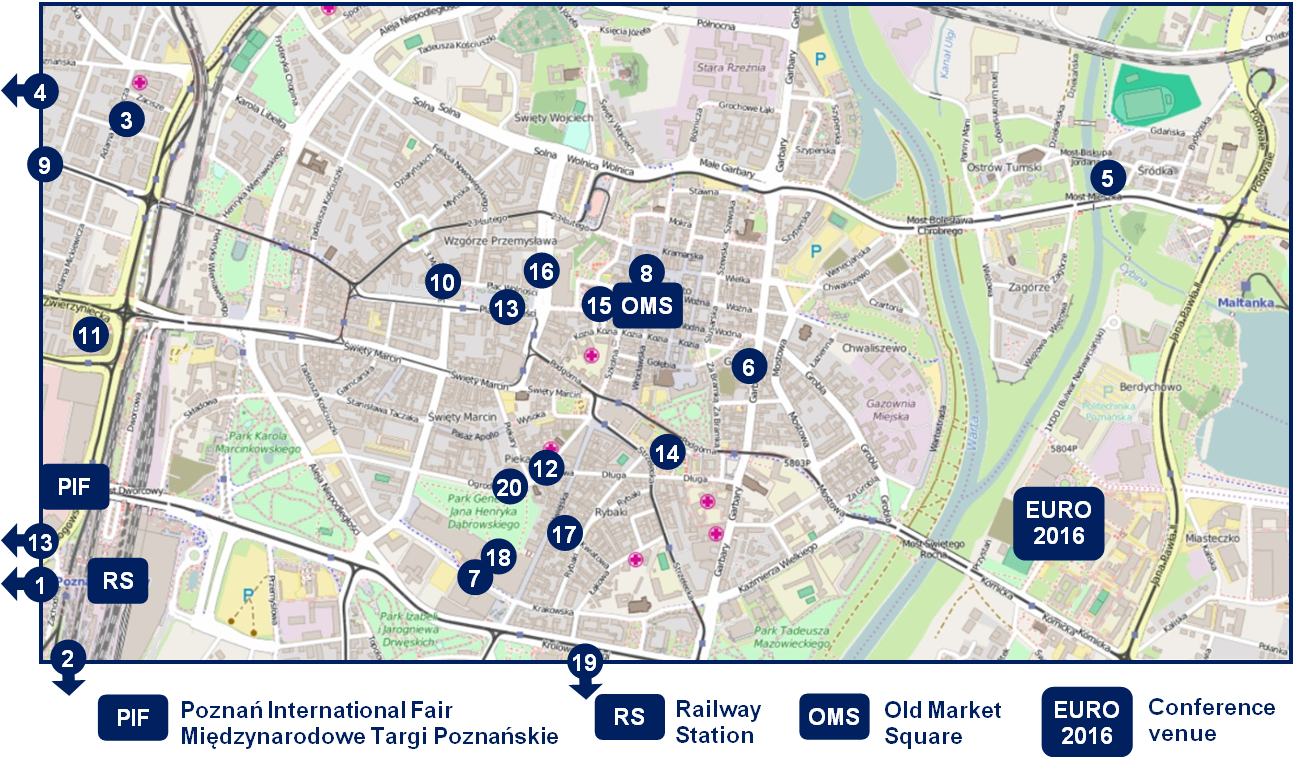 1
Cucina (City Park): Wyspiańskiego 26A
Chef draws inspiration mostly from Mediterranean cuisine, Oriental flavours and traditionally Polish hints.
11
Concordia Taste: Zwierzyniecka 3
Located in a newly renovated 19th century former printery turned Concordia Design Center.
2
A nóż widelec: Czechosłowacka 133
It offers Polish cuisine with a designer touch. Chef succeeded at implementing an extremely brave project.
12
Muga: Krysiewicza 5
It appreciates good and refined cuisine. The guests are offered designer creations which include both seasonality and European trends.
3
Oskoma: Mickiewicza 9A
Polish tradition, quality produce, the creative freedom, a very young team and an award-winning chef.
13
Enjoy Restaurant: Reymonta 19
Innovative trend of modern Polish cuisine, which is a guarantee of unusual culinary experiences.
4
Zagroda Bamberska: Kościelna 43
It  serves traditional Wielkopolska (Greater Poland) cuisine with a modern twist.
14
Papierówka: Zielona 8
It is a green escape in the middle of the city, where you can relish a light regional cuisine.
5
Vine Bridge New Polish Cuisine: Ostrówek 6
It is Poland's smallest restaurant! The dishes served here are based entirely on local and regional produce.
15
Brovaria: Stary Rynek 73-74
It is a unique micro-brewery, an excellent restaurant and a romantic, three-star hotel.
6
Dark Restaurant: Garbary 48
It is the first restaurant in Poland where everything takes place in complete darkness.
16
Warto nad Wartą: Al. Marcinkowskiego 27a
Its menu is based in Polish cuisine with a modern twist.
7
Blow Up Hall 50/50: Kościuszki 42
The restaurant of the 5-star Blow Up Hall 50/50 Hotel is located in the central part of Old Brewery.
17
Manekin: Kwiatowa 3
It is crepe/pancake heaven and offers all the usual options plus more maverick choices.
8
Ratuszowa: Stary Rynek 55
18
Piano Bar Restaurant & Cafe: Półwiejska 42
9
D42: Dąbrowskiego 42
19
SPOT.: Dolna Wilda 87
10
Papavero: 3 maja 46
20
Figaro: Ogrodowa 17
Beer in Poznań
Beer – a beverage most strongly embedded into European history and culinary tradition – is invariably associated with a sense of community and spending time together. The city's social life revolves around pubs, brasseries, and clubs. A multiplicity of brands and variants, and the brewers' impressive offer enable everyone to not only find their own group of friends, but also their own beer.
Connoisseurs in passionate pursuit of new flavours have their own meeting places. It is for them that original products from around the world is imported from around the world and served next to the local beer brands. Take a journey through Poznań's pubs, brasseries and clubs. Follow the beer trail and meet the fascinating people who create the unique atmosphere of this city.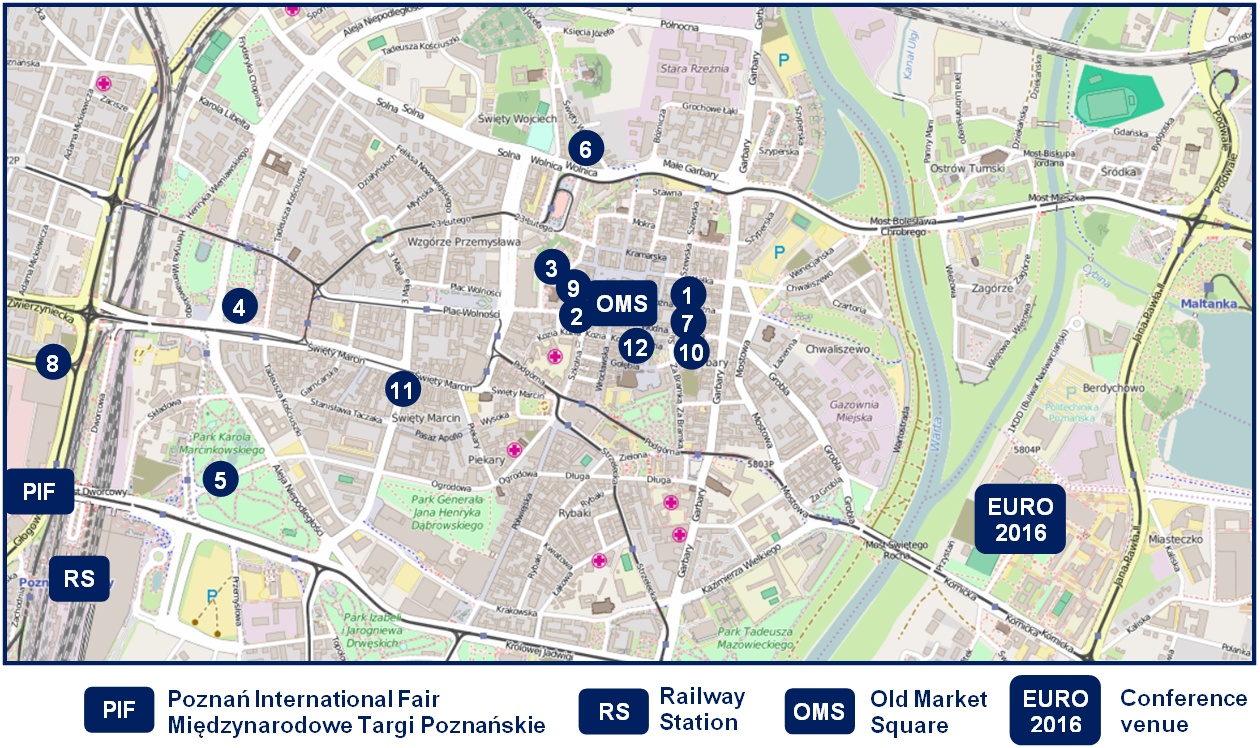 1
Basilium: Woźna 21
Over 150 brands from small Polish breweries.
7
Kriek Belgian Pub & Cafe: Wodna 23
Belgian pub with around 170 beer sorts on offer.
2
Brovaria: Stary Rynek 73-74
The only in-restaurant brewery in Poznań.
The amber liquid is produced in 3 variants: wheat, honey, and pils.
8
SomePlace Else (Sheraton): Bukowska 3/9
On the more price end of Poznań's watering holes, but it is woth it too.
3
Dragon: Zamkowa 3
The locale serves a few draught and bottle beer sorts. Multilevel summer outdoor place.
9
Warzelnia: Stary Rynek 71
One of the few places where you can try the famous Polish expert beer - Tyskie - from a tank.
4
Dubliner Irish Pub: Święty Marcin 80/82
One of the few places serving Guinness and the Irish cider. Famous for the live music.
10
Za kulisami: Wodna 24
For the beer enthusiasts, there are at least 10 regional sorts and draught beer - dry and sweet.
5
Fort Colomb: Powstańców Wielkopolskich
One of the few remains of the inner fortifications ring of a powerful stronghold erected by the Prussians.
11
Ministerstwo Browaru: Ratajczaka 34
A Small pub with a few hundred sorts of both international and local beers.
6
Klub u Bazyla: Święty Wojciech 28
A true music club which pffer a few dozen kinds of beer.
12
Piwiarnia Warka: Świętosławska 12
A pub serving one of the famous Polish pale, bottom-fermented lager beers - Warka.
"Słodkie" - coffee and cake
The tradition of "słodkie" (coffee and cake, served in the afternoon) is Poznań at its finest. "Słodkie" is a must; we have to go out for "słodkie"; "słodkie" is the appropriate suggestion to serve to unexpected afternoon visitors. What is interesting, it can sometimes be offered even prior to the main meal. Luckily, there is no need to spend hours slaving over a hot stove, preparing your own baked goods. What are the pros there for, if not to please your palates with a slice of lovely apple pie, or a mouth-watering cheesecake. Of course, "słodkie" would not be what it is without a nice cup of steaming coffee - especially one brewed professionally from carefully selected coffee beans.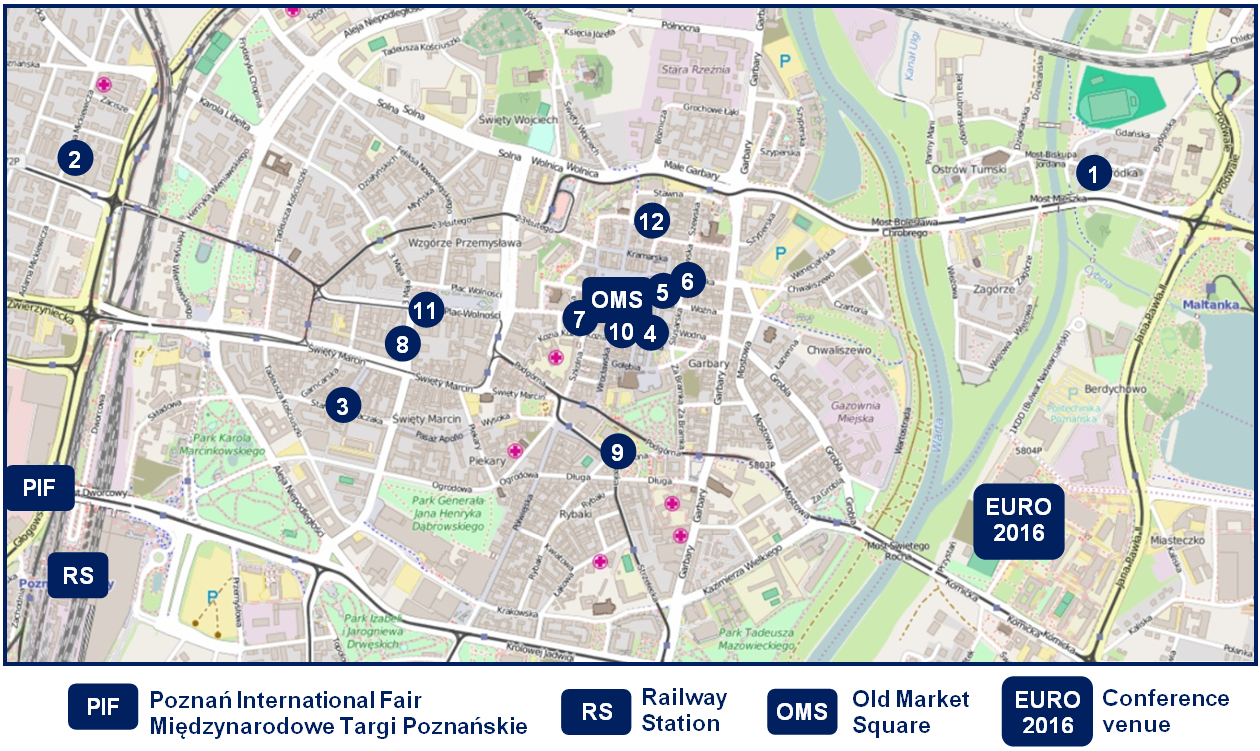 1
La Ruina: Śródka 3
La Ruina is famous among the lovers of coffee and cheesecake. This tiny cafe is located a few meters from Porta Posnania and the Cathedral church.
7
Zielona Weranda: Paderewskiego 7
Apart from excellent homemade cakes and desserts, it offers a unique atmosphere and some time to relax in a garden at the heart of the city.
2
Brisman Kawowy Bar: Mickiewicza 20
This place is famous for coffee prepared in all various ways. They have true barista pros - finalists of barista championships and masters of "latte art".
8
Kawiarnia Stragan: Ratajczaka 31
The only place in Poland indicated by BuzzFeed as one of the "25 cafes in the world you need to visit before you die". Great salads and bagels.
3
Taczaka 20: Taczaka 20
It is the heart of the Taczaka street. We will eat here pastas, salads and sandwiches, homemade cakes and great coffee.
9
Caffe Bimba: Zielona 1
A tiny cafe is visible from afar. This is because it is an old tram, known in Poznań dialect as "bimba", turned into a scrubbed and bright cafe.
4
Cafe Misja: Gołębia 1, Poznań
Located exactly in the centre of the city of Poznań - in the historical complex of the former Jesuit college.
10
Weranda Caffe: Świętosławska 10
Delicious homemade cakes, pies and desserts. Quiet summer garden in the city centre.
5
Stacja Cafe: Woźna 1
11
Cafe Bar Da Vinci: Wolności Square 10
6
Gołębnik: Wielka 21
12
Piece of cake: Żydowska 29
Larger shopping centres
Galeria Malta
Address: Maltańska 1
www.galeriamalta.pl
Mon-Sat: 10-22 / Sun 10-20
Stary Browar (Old Brewery)
Address: Półwiejska 42
www.starybrowar5050.com
Mon-Sat: 9-21 / Sun 10-20
Poznan City Center
Address: Matyi 2
www.poznancitycenter.pl
Mon-Sun 9-21
Currency exchange office
Poland's legal tender is the Polish zloty (PLN), which is divided into 100 groszy. USD 1 = ca. 4.03 PLN; €1 = ca. 4.45 PLN (rates as of June 28, 2016) Polish zloty bank notes are issued in denominations of 10, 20, 50, 100 and 200 zlotys, while coins are for 1, 2, 5 zlotys and 1, 2, 5, 10, 20 and 50 groszy. The currency may be converted at exchange points, in banks and some hotels.
► Currency exchange offices (Kantor) are easy to find in Poznań - in the city center you can find at every street and each larger shopping center.  See a sample of such points, here. There are no significant differences in the rate they offer. However, as with any international destination, it's imperative to check the rates before changing the money. The general rule is you should avoid changing all your money at city entry points, particularly at the airport where the rates are very high, and at the hotels.
ATMs
Major credits cards are accepted in most hotels, restaurants, and shops. It is common to use contactless credit cards.
► Three ATMs (in Polish: bankomat) are available at the conference venue (two inside conference buildings (Building CW, ground floor and Building WE, ground floor). More ATMs are available in the Malta Shopping Centre (Galeria Malta) which is located 500 metres away from the main conference venue in the direction of Lake Malta. ATMs can be also easily found at the airport and at the main railway station.